Surely, you have already come across many metaphors for knowledge: a building permanently under construction, a very big tree with its roots deep down in the earth, finding nourishment in the legacy of the ancient masters, or even a never-ending road, with countless crossroads and a horizon that sometimes looks close enough to reach – but never actually quite achievable. With our research, we challenge ourselves with goals that always are set further and further away.
One thing is absolutely sure… a step forward actually only means progress when the last one has been given thoughtfully and confidently, putting us in a solid position to continue moving forward. In other words, research is an activity that naturally thrives from previous findings and research. Allowing your readers to access research data is considered a good practice in science, and a mechanism to encourage transparency in scientific progress. It's for this that most journals today demand a Data Availability Statement, where authors openly provide the necessary information for others to reproduce works stated or reported in an article. In the case of research reviews, however, that are not based on original data, such a statement is not needed.
What is a Data Availability Statement (DAS)?
A Data Availability Statement (also called Data Access Statement) tells the reader if the data behind a research project can be accessed and, if so, where and how. Ideally, authors should include hyperlinks to public databases to make it easier for the readers to find them. If you are currently in the process of submitting an article to a journal, you should check its guidelines and policy, but normally a DAS is included in a very visible place in the manuscript right before the reference section. For further guidance, most journals offer templates for different kinds of DAS formats, regarding different means of accessing data (or not).
When specific journal instructions regarding how to formulate a DAS are absent or unavailable, there are some examples below you might find handy. However, you should consider tailoring or combining them to fit your needs (replace the information inside brackets):
Data available to be shared
The raw data required to reproduce the above findings are available to download from [INSERT PERMANENT WEB LINK(s)]. The processed data required to reproduce the above findings are available to download from [INSERT PERMANENT WEB LINK(s)].
Data not available to be shared
The raw/processed data required to reproduce the above findings cannot be shared at this time due to legal/ ethical reasons.
The raw/processed data required to reproduce the above findings cannot be shared at this time due to technical/ time limitations.
The raw/processed data required to reproduce the above findings cannot be shared at this time as the data also forms part of an ongoing study.
As previously mentioned, the most common practice to share datasets is to provide a permanent web link. This way, almost universal access is guaranteed. There are no restrictions concerning the choice of a database;. Authors can use whatever database they want, but depending on which journal they are submitting their papers to, they can be invited to upload their dataset to a specific one. This is a way to encourage authors to include a Data Availability Statement during submission for publication. Generally, though, you can also link your dataset directly to your article.
Why should I write a Data Availability Statement?
Actually, Data Availability Statements are normally only one or two sentences, so there is really no reason why it shouldn't be included in the manuscript. Furthermore, most journals and funders require them for submission purposes.
DAS' are important because they support
Data validation
Impactful findings emerge from solid data. Validating data is an often overlooked step, but it is key to achieve accurate results. By making data access available for your readers, you are giving them the opportunity to check for themselves the quality and legitimacy of your paper's underlying data. Additionally, it also makes it easier for researchers to find and have access to an even larger quantity of scientific material that could be important to develop their own body of work.
Reuse of information
Science progress ultimately rests on used and reused chunks of information. They are like bricks for that infinitely growing building mentioned in the introduction. Data Availability Statements allow research data to be easily found and properly examined and validated by scientists who might need it for further research. Together with database indexation, they are a very effective tool for general access to scientific information networks, making it easy for researchers to develop their scientific projects, and further knowledge.
Citation
Probably the best news for authors concerning Data Access Statements is that they definitely help improve the chances of being (properly) cited by other researchers. As you might already be aware by now, the number of citations constitutes an important value taken into account when calculating a researcher's relevance metric (H-index). The higher one's H-index, the more visibility and recognition he or she has.
It can't be overemphasized how important Data Availability Statements are for transparency in science. They assure that researchers are properly recognized for their work and help science grow as a discipline, in which sustainable progress is a key pillar.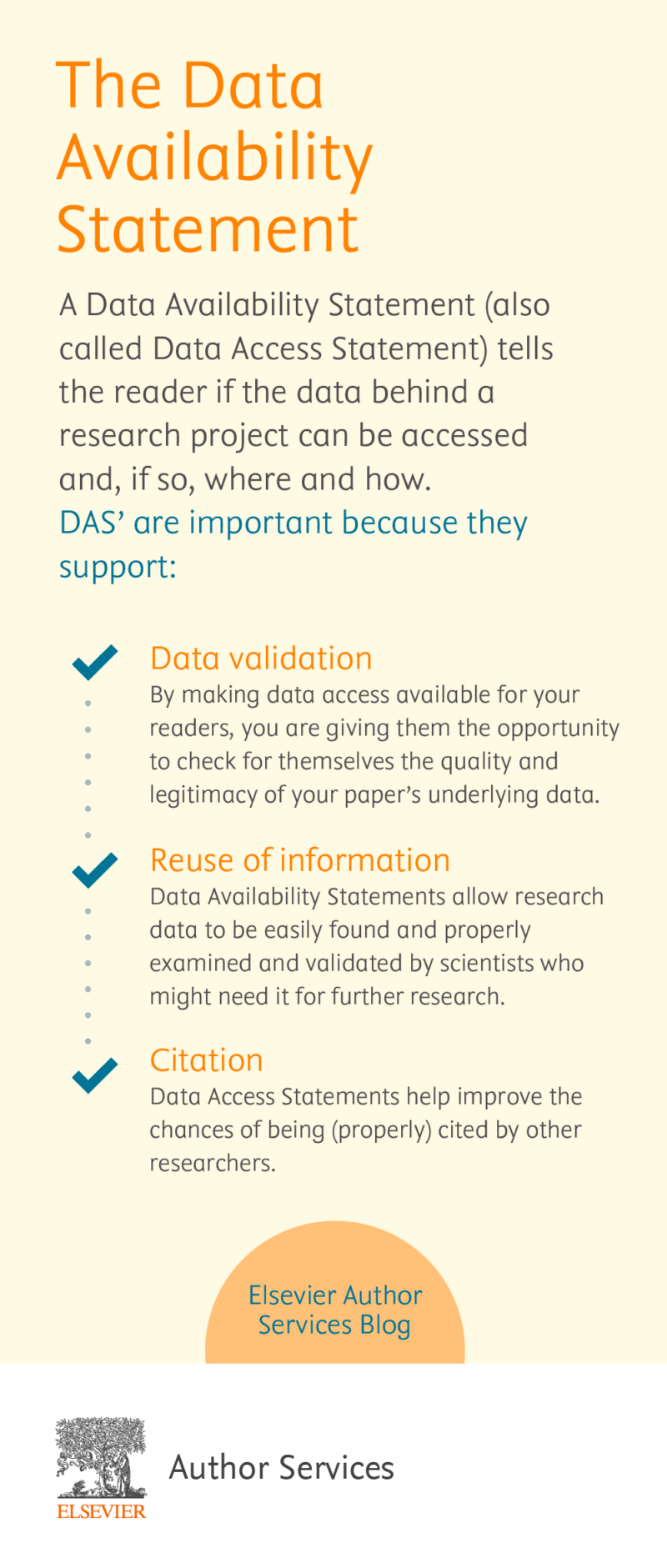 Data Availability Statement with Elsevier
In summary, with a Data Availability Statement an author can provide information about the data presented in an article and provide a reason if data is not available to access. View this example article where the DAS will appear under the "research data" section from the article outline.
Benefits for authors and readers include
Increases transparency
Allows compliance with data policies
Encourages good scientific practice and encourages trust
How does it work
Check the Guide for Authors of the journal of your choice to see your options for sharing research data. The majority of Elsevier journals will have integrated the option to create a Data Availability Statement directly in the submission flow. You will be guided through the steps to complete the DAS during the manuscript submission process.
Our Scientific Illustration Services transform your ideas into professional illustrations
Our Academic Infographic Service visualizes your research and helps you share it with a wider audience.
With more than a hundred years of experience in publishing, Elsevier is trusted by millions of authors around the world.
Check our video Elsevier Author Services – Scientific Illustration & Infographic Services to learn more about Author Services.