It's sometimes said that writing your article is the easiest part of the process. Publishing it, and getting it into the hands of other researchers and interested parties, is another matter, altogether.
In this post, we'll go over details on how to get an article published. We'll also include a checklist for manuscript submission. When you follow these guidelines, you will increase your chances of getting your hard work published in a journal.
Our first step will be to make sure you are submitting your article to the right journal, and following their guidelines. So, it's important that we include a disclaimer here. Every journal will have different procedures and requirements, so it's critical that you follow their guidelines exactly. This article is simply meant to be a general guide.
How to Get Published in a Journal
Before you even consider getting published, it's critical that you select the right journal. Is your article a good fit? You can find out by looking at the journal's scope and aim, as well as evaluating recent articles. Do they compliment your work? Would your article "make sense" in the context of the other articles being published? Do you want to publish open access? If so, make sure your chosen journal has that option.
Checklist Journal Guidelines
If you have the right journal for you, simply follow these checklist journal guidelines. Again, make sure you check with your specific journal to make sure you're following their procedure.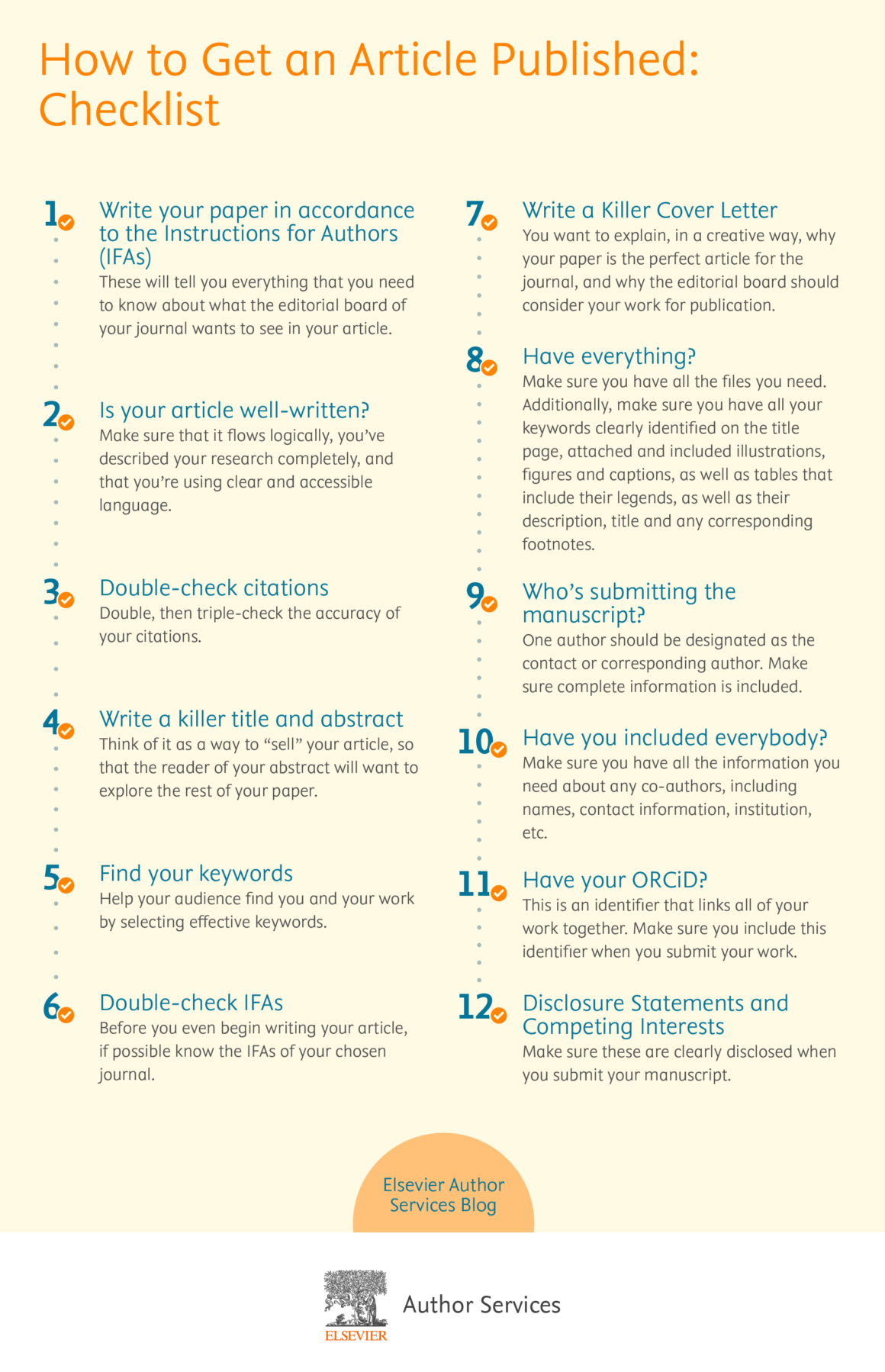 1 – Write your paper in accordance to the Instructions for Authors (IFAs)
These will tell you everything that you need to know about what the editorial board of your journal wants to see in your article, including details like style guides and word counts.
2 – Is your article well-written?
Make sure that it flows logically, you've described your research completely, and that you're using clear and accessible language. Have a friend, peer or editing expert make suggestions that will improve the overall quality and clarity of your paper.
3 – Double-check citations
Double, then triple-check the accuracy of your citations. Have any of the articles you've cited been withdrawn? Do you have citations that support your text? Do you have any needed permissions for copyrighted material?
4 – Write a killer title and abstract
Here's your chance to get your audience's attention. You want to make your title descriptive and catchy, but not overly so. Likewise, with your abstract; think of it as a way to "sell" your article, so that the reader of your abstract will want to explore the rest of your paper.
5 – Find your keywords
Help your audience find you and your work by selecting effective keywords. Consider keyword research to find the most popularly searched phrases that you can include naturally within your abstract, article description, and even the title.
6 – Double-check IFAs
As mentioned previously, before you even begin writing your article, if possible know the IFAs of your chosen journal. Many journal's offer templates to help you with formatting, and instructions on style, reference section requirements, etc.
7 – Write a Killer Cover Letter
One of the most overlooked elements of the publishing process, your cover letter can make or break your success to publishing in a journal. You want to explain, in a creative way, why your paper is the perfect article for the journal, and why the editorial board should consider your work for publication. Take your time on this step. There are various templates of successfully published cover letters, and templates available online.
8 – Have everything?
Make sure you have all the files you need. This will depend on what type of peer review the journal is utilizing. For example, for a peer, double-blind review, you'll need to provide an anonymized version of your manuscript. Additionally, make sure you have all your keywords clearly identified on the title page, attached and included illustrations, figures and captions, as well as tables that include their legends, as well as their description, title and any corresponding footnotes.
9 – Who's submitting the manuscript?
One author should be designated as the contact or corresponding author. Make sure complete information is included, such as email address, the address of the affiliated organization or site, and the full mailing address for the corresponding author.
10 – Have you included everybody?
Make sure you have all the information you need about any co-authors, including names, contact information, institution, etc. It can be tricky to define authorship, so check out our blog on that here.
11 – Have your ORCiD?
This is an identifier that links all of your work together. Make sure you include this identifier when you submit your work.
12 – Disclosure Statements and Competing Interests
Have any? Make sure these are clearly disclosed when you submit your manuscript. Each journal will have a particular format. Make sure you're being transparent about any conflicts of interest.
Language Editing Plus
To make sure your manuscript is 100% ready for the submission process, including an analysis of logic and flow, grammar, and even citation review, check into our Language Editing Plus Services. Check the final price on our Language Editing Simulator, and get started today!