Research data is the foundation of any research project, and its quality is the key to achieving excellence in any scientific work. A significant part of any science project is handling research data in order to find answers to the topic question. Therefore, if data management fails at any stage, the best you will get are average results, and research that is far from impressing peers and publishers.
Science demands that every statement is supported by valid and credible, primary data. Referencing other authors to back line sources of information might be helpful, but could also lead to disappointment. If their underlying research data is poor, has no credibility in the scientific community or is simply outdated or beyond the theoretical scope of your own research, you are dooming your paper right from the beginning. We recommend constant validation of any kind of reused research data and metadata, in order to avoid false certainties and shaky argumentation.
Reused research data is, in fact, a common resource in science. Sharing research data for readers and other scientists is highly encouraged by publishers, funders and institutions in general, promoting transparency and knowledge proliferation. However, choosing what is suitable for your own project might be challenging and very time-consuming. If you have other projects in a more advanced stage, like manuscript review or translation, we recommend leaving this task to the experienced eyes of our well-trained language editing professionals. With Elsevier, you'll have a high-quality text, with the guarantee of successful acceptance for publication.
It may also be the case where you will have to create your own research material because used research data simply does not exist. In this scenario, plan and perform experiments in compliance with the best practices and policies regarding safety and individual protection.
Whatever the source or origin of the research data you use, you won't get very far just by gathering a huge pile of random and/or scattered information. That is where data processing comes in via collecting, handling, categorizing, interpreting and summarizing, using research data reduction techniques. If you are not sure how to begin this task, check these simple steps below. They will help you get a hold on the most important aspects of managing research data:
Compliance: Never forget that science knowledge is considered a public good. By creating and managing research data, you must be compliant with data policies. This means there are rules concerning data archiving, publishing and sharing. Make sure you are up-to-date with policies that might concern your work.
Efficiency: The more organized your research data is, the better you can extract information from it. Transforming diaries and field notes into more condensed data formats – such as spreadsheets and tables – will provide a much better visualization of patterns. Whenever you can, try processing raw information into more intelligible output formats in order to be shared within the scientific community. Don't forget:

Backup all the time! Don't risk losing important information. Choose more than one safe place to preserve it.
Keyword: Organization! For your own sake, maintain your data, categorized and organized, so it can be easily sorted and consulted. Remember, however, that someday you will have to share it. Start planning a "user-friendly" directory, taking into account potential versions of data sets and documents.
Keep track of your data now and in the future! Data documentation (or metadata) is information about the creator, identifier, title, date, location, methodology, etc., and is essential to understand your datasets in the future. Moreover, metadata allows proper citation by others who want to reuse your material.
Ethics and Transparency: This means not engaging in data fabrication, manipulation and misattribution. Use de-identified data, when applicable, to avoid incurring personal protection lawsuits.
Research Data Lifecycle Management
Whenever a researcher starts planning the concept of a study, he/she enters a never-ending circle that involves not only the researcher, but also the entire scientific community. His/her research data initiates a multi-phased path, including creation, distribution and sharing. That cycle infinitely exists in a giant loop, starting again with re-planning, re-analyzing, reusing, etc., by others. This is the essence of universal knowledge. As long as scientists and researchers are aware of their responsibilities in data management – not only for their own sake but for others too – science will have more instruments to progress even further.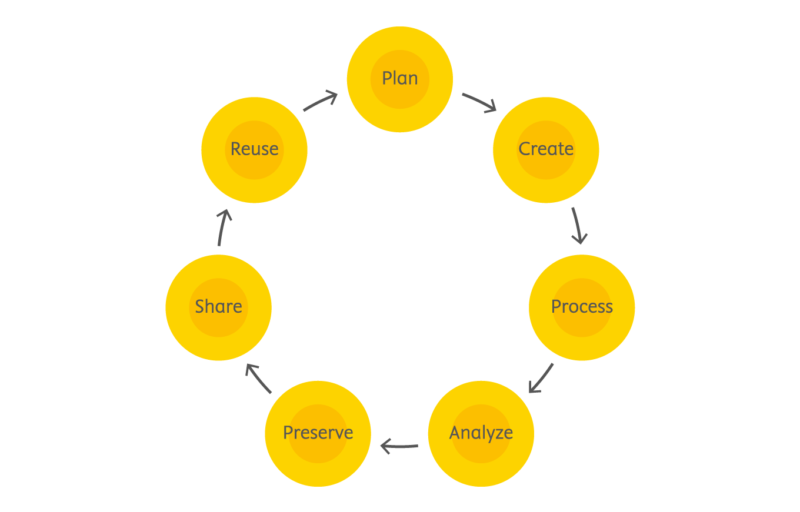 Data Management Plan for Qualitative Research 
A Data Management Plan (DMP) is a formal document that describes in detail every aspect concerning the supporting data of your research. In other words, it's a written mirror of your research data lifecycle. In this document you will have to give information on how you will obtain data, how you will handle it and, finally, how it will be shared and reproduced. A DMP is important to obtain funding, for example. Collecting data might be expensive and such a document explains to the funder how their money will be used.  
Depending on what organization you are planning to apply to, you will receive a model or a template you can use, or you can write a DMP on your own. Whatever the case, here are five questions you definitely must answer:
What type of data will you create?

What organization standards will you follow?

What will you do to preserve security, confidentiality and intellectual property rights?

Will you allow others to use your data? If so, where and how?

Where will you keep your data permanently?
Remember that with our Language Editing Plus Service, you can achieve excellence in written text, including a Data Management Plan. Our team of language experts will pay special attention to the logic and flow of contents, adjusting your document to meet your needs. Apart from professional text edition, we offer reference checking and a customized Cover Letter. All this, with unlimited rounds of language review and full support at every step of the way. Use the simulator below to check the price for your manuscript, using the total number of words of the document.

Type in wordcount for Plus
Follow this
link
if your manuscript is longer than 9,000 words.
Upload
Find more about Why Manage Research Data on Pinterest: